So it dawned on me late last night that today is my ONE YEAR anniversary in becoming an author and publishing my debut novel, A Night to Forget!!! AHHH! OMG, I honestly cannot believe it's already been a year!
I want to take this opportunity to THANK:
♥ All my incredibly amazing readers who have read my books and continuously encouraged and nurtured this secretly emotional author (*sniffle*).
♥ All the bloggers that have supported and promoted me along in this past year–many of you do way too much and do not receive enough in return!
♥ And of course, all my friends and family who have been my cheerleaders and guiding light in this past year!!!
I seriously do not thank you guys enough! You're the very best, and I feel blessed and humbled EVERY. SINGLE. DAY. that I get to write stories that people actually want to read, and actually enjoy! It seriously boggles my mind sometimes! So THANK YOU ALL SO MUCH for making this little dream of mine come true.
To celebrate this anniversary, A Night to Forget is on sale for $0.99 for today ONLY!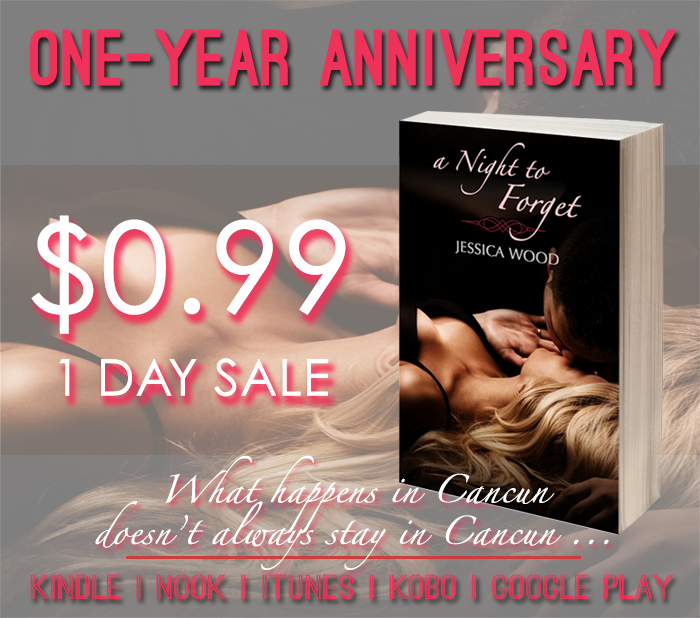 ✦ Amazon: http://amzn.to/1fzkQwy
✦ B&N: http://bit.ly/1kTYMNM
✦ iTunes: http://bit.ly/1hkCJkm
✦ Kobo: http://bit.ly/1nn61PO
✦ Google Play: http://bit.ly/1nSbSQa
★✰★ Please help me share this sale! ★✰★