Hi everyone!!! Merry Christmas! I wish you a wonderful day with your loved ones filled with lots of  joy, laughter, and amazing food!
Because it's Christmas, and because I love you guys, I'm putting the Emma's Series Box Set (A Night to Forget & The Day to Remember) on sale for ONLY $2.99, for a limited time! That's 50% the regular price of the box set!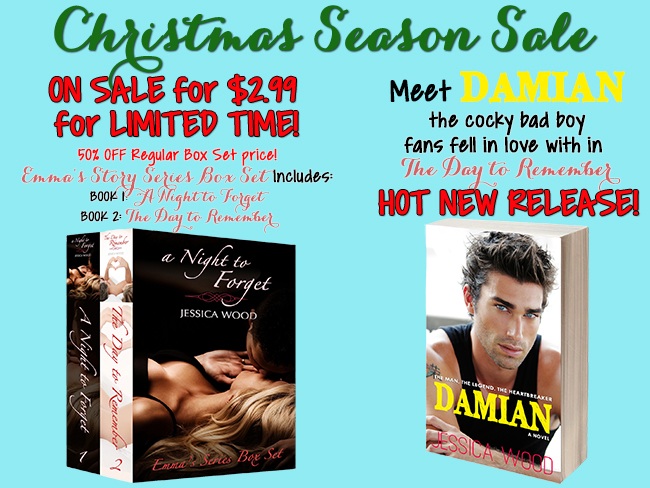 This is the PERFECT time to read the series that Damian debut in and Damian together!!!
Emma's Series Story are available on Amazon and Barnes & Noble:
► Amazon US: http://amzn.to/JWNRIL
► Amazon UK: http://amzn.to/1d7CHLD
► Amazon CA: http://amzn.to/1fGg5S3
► Barnes & Noble: http://bit.ly/1d2eq9G
Damian is now LIVE on Amazon and Barnes & Noble:
► Amazon US: http://amzn.to/19kRNyC
► Amazon UK: http://amzn.to/1hx73b7
► Amazon CA: http://amzn.to/19mb2ry
► Barnes & Noble: http://bit.ly/1dw3JdB
xo,
Jess