**updated on July 4, 2014**
Happy Monday!!!
Guess what, I have two things for you! One: the release date for The Chase 3. Two: The Heartbreaker (Damian) series is now available in a box set and currently on sale! 🙂
✰✰✰ THE HEARTBREAKER Series Box Set ✰✰✰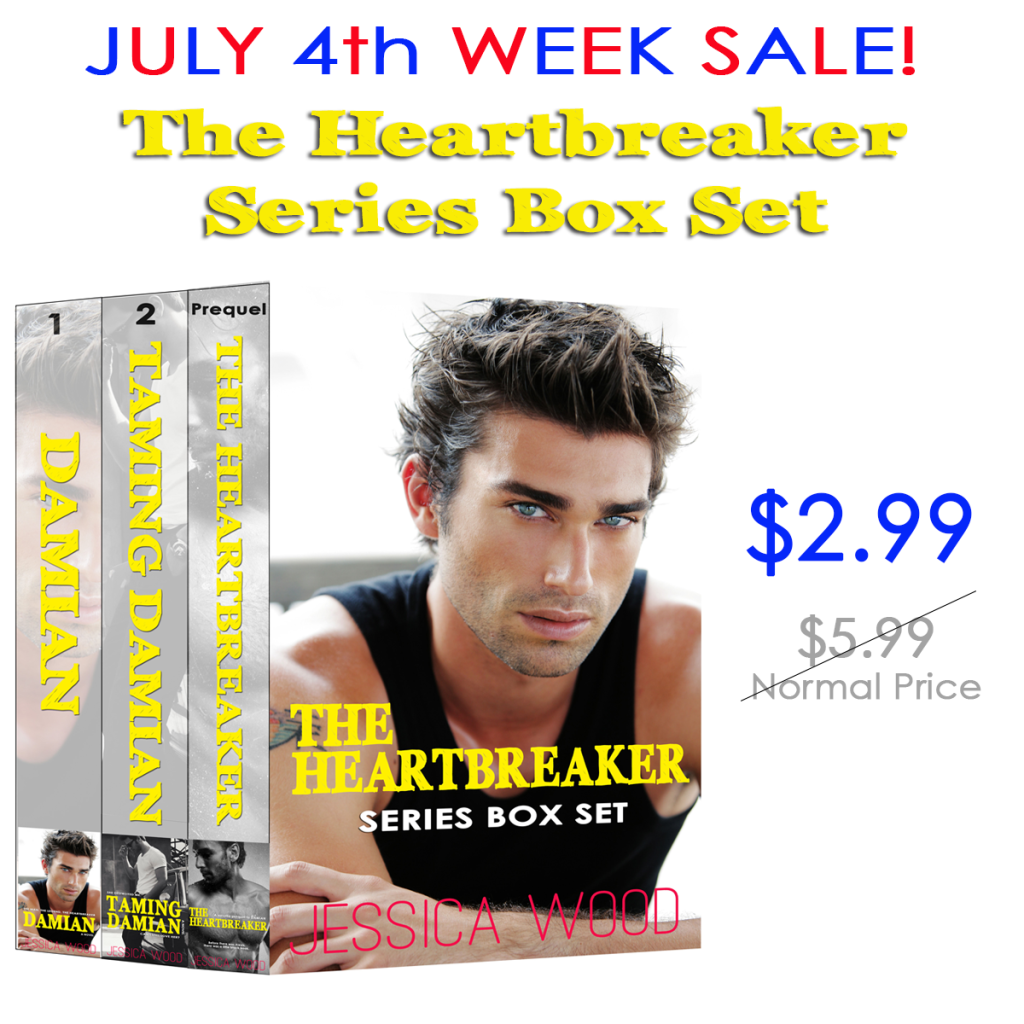 Surprise!!! The Heartbreaker series (3 books) is now available in a box set! Have you met Damian Castillo yet? 
To celebrate its release and July 4th, it'll be on sale for $2.99 for this week only! It will go up to its regular price of $5.99 next Monday! The 3 books are $8.97 if purchased individually! So take advance of this sale and grab your copy now if you haven't already! 
Amazon US: http://amzn.to/1z2LtVK
Amazon UK: http://www.amazon.co.uk/dp/B00LEP7HUQ
Amazon CA: http://www.amazon.ca/dp/B00LEP7HUQ
Amason AU: http://www.amazon.com.au/dp/B00LEP7HUQ
B&N: http://bit.ly/VAvPBV
Kobo: http://store.kobobooks.com/en-US/ebook/the-heartbreaker-series-box-set
iTunes: https://itunes.apple.com/us/book/id894814980
Google Play: https://play.google.com/store/books/details/Jessica_Wood_The_Heartbreaker_Series_Box_Set?id=RPfsAwAAQBAJ 
✰✰✰ The Chase 3 Release Date, Blurb & Teaser ✰✰✰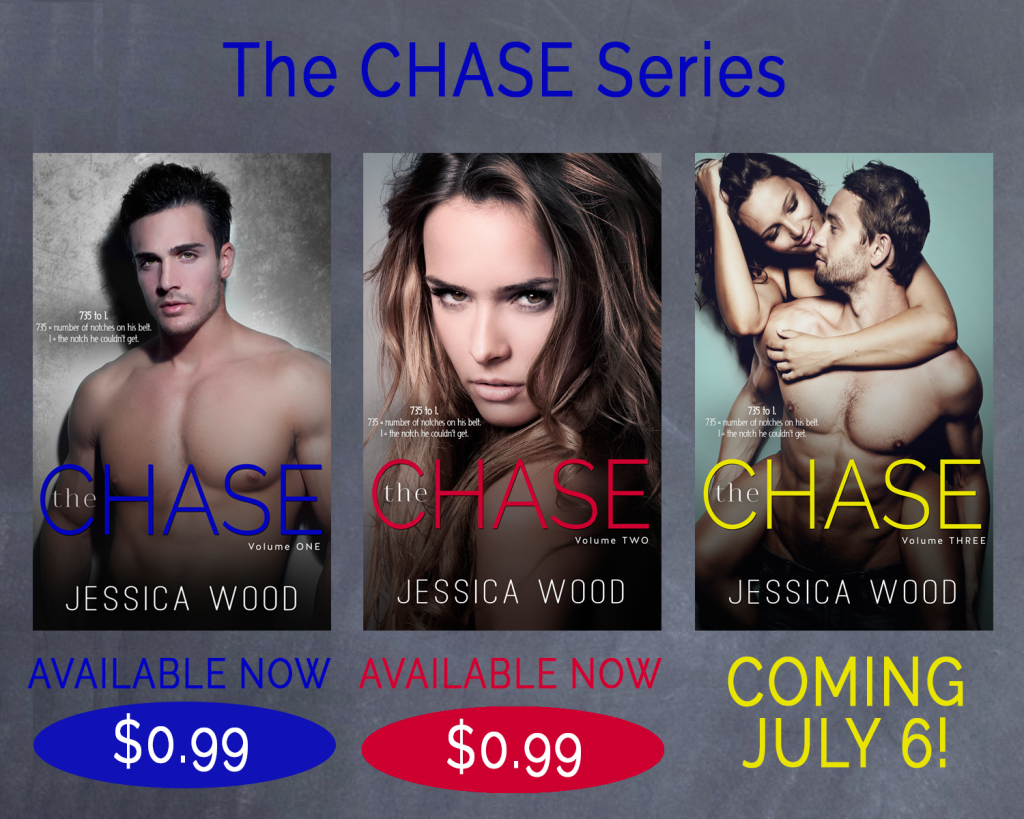 The Chase 3 is coming on July 6! Are you ready? You can add The Chase 3 to your Goodreads TBR. 
Blurb
When the Blonde Bitch broke my heart ten years ago, I had vowed two things.
One: I would never waste my time on loving someone again.
Two: I would never to have anything to do with the Blonde Bitch again.
When I met my 736th notch, I broke that first vow. The minute I saw Blair, the second our eyes met, the microsecond I tasted her in my mouth, I knew that was the one vow I had to break. But the second vow, that I would keep. That vow I had control over. That vow I would take to my grave.
But I couldn't have been more wrong.
Because Fate had other plans in mind. Fate was in on a cruel joke, and I was its target.
Teaser
"Hey, are you in your office today?" I asked as I walked down the hallway of William & Sutter LLP toward Dean's office.
"Yeah, but I much rather be somewhere else? Where are you?"
I stifled a giggle and felt relieved that he couldn't see the wide grin on my face. "Just walking around. So…where would you rather be?" My voice trailed off into a whisper and I heard the meaningful chuckle from his end of the line.
"Well…there's a tight, dark place that I'd like to be inside of. It's warm, inviting, and wet…"
He paused and I slowly drew in an uneven inhale of breath.
"And even though I was just there last night, it wasn't enough. I think I need to take permanent residence inside there ASAP."
I felt my stomach flipped in excitement as my legs picked up the pace as I closed in on the door of his office. "So what do you plan to do inside there when you go next?"
"Mmm." I could picture him lick his lips as he thought about his answer. "Well, first, my fingers will want to do some exploring and get place even more wet and inviting. And then, there's my mouth and my tongue. They will want to taste every inch of the honey walls…God, you're such a tease! I want to fuck you now!" He grunted in frustration, causing me to smile triumphantly.
I got to his door and saw his facing the window in his chair.
"What if you can fuck me now?" I asked into the receiver.
He inhaled sharply as he whipped around, his eyes filled with desire.
"Baby, you just made my day." He stood up and I gasped as my eyes grew wide at the sight of his erection through his pants.
I walked inside his office and closed the door behind me. "It doesn't take much to get you excited, does it?"
He chuckled. "What can I say? I'm business on top, party on the bottom." With three strides, he was standing inches in front of me. "Now let me show you exactly where I want to be right now."
This is the last book in this serial, so if you haven't read The Chase 1 or 2, this is the perfect time to catch up!
The Chase 1:
►Amazon US: http://amzn.to/1mGn4x5
►Barnes & Noble: http://bit.ly/1oOJPUD
►iTunes: https://itunes.apple.com/us/book/id884706692
►Google Play: http://bit.ly/1nTHY11
►Kobo: http://store.kobobooks.com/en-US/ebook/the-chase-volume-one
The Chase 2:
►AMAZON US: http://amzn.to/1iD9Ejk
►AMAZON UK: http://www.amazon.co.uk/dp/B00L2024XI
►AMAZON CA: https://www.amazon.ca/dp/B00L2024XI
►AMAZON AU: http://www.amazon.com.au/dp/B00L2024XI
►B&N: http://bit.ly/1lAd77Z
►Kobo: http://store.kobobooks.com/en-US/ebook/the-chase-volume-2
►Google Play: http://bit.ly/1i92okl
Happy Monday! Now back to my writing cave! Dean Chase awaits! 😉
xo,
Jess